Designed for CD & DVD Printing
Pleiger developed the Precision Edge Squeegee for digital video disc printing and compact disc printers. Manufactured in both our Plei-Tech® 22 and Plei-Tech® 15 (Vulkollan®) polyurethane compounds, our Precision Edge products are available in standard cut-to-length sizes in standard durometers. Because of the high precision of printing on these types of substrates, we manufacture these products so that our edges are virtually defect-free and uniform. Our Quality Control Department inspects each Squeegee order. Copies of our Quality Control Inspection Reports on "Precision Edge" orders are available to our distributors and end-use clients upon request.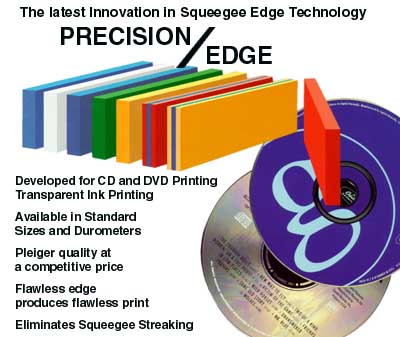 Plei-Tech® 22:
70A-Yellow
75A-Green
80A-Blue
85A-Red
90A-Natural
Plei-Tech® 15:
(Plei-Tech® 15 is always amber in color)
Precision Edge Squeegees are excellent for any printing application requiring extremely tight squeegee dimension and durometer tolerances. Defect-free edge specifications for flat glass, electronics, and ceramic printing also call for the use of our Precision Edge Squeegee.