Gravure printing is ideally used for long run and high quality printing that produces a sharp image. Because of these long runs, Rotogravure printing presses require parts to have a very long service life. Pleiger's solid and foam polyurethane Gravure printing machine parts are ideal as replacement parts because of their exceptional performance, long life, and resiliency. Many different replacement polyurethane parts are available for these printing presses. Pleiger produces cheek rubber, cutting sticks, foam brake pads, transport and nip rollers, as well as doctor blades. These parts are used in transport copy, paper cutting, and braking devices on the Gravure printing press.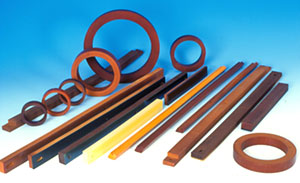 Pleiger's parts that have proven to last the longest are manufactured from Pleiger's Plei-Tech® 15 (Vulkollan®) polyurethane. Many of the replacement parts are made from Pleiger's Plei-Tech 15 (Vulkollan®) micro-cellular closed cell foam. The foam exhibits longevity for elasticity over long periods of time. It is ideal for braking or transport rollers because the foam will not fatigue and will outlast the competition because of its resiliency and abrasion resistance.
Please contact us today to learn more about our Gravure printing machine parts.