Unsure what a Polyurethane Ball Check Valve is?
A polyurethane ball check valve is a ball that moves up and down inside a valve. A seat is machined to fit the ball, and the chamber is cone-shaped. The cone guides the ball into the seat to seal it and reverse the flow. Choosing a lighter or heavier ball affects the pump capacity.
If you are looking for a valve that requires little maintenance, this is the product you should use, and it doesn't require much maintenance or oversight.
How a Ball Check Valve Will Help You
Ball check valves are designed with one moving part, a ball, to block the reverse flow. The ball will seat tightly and won't get wedged into the valve seat.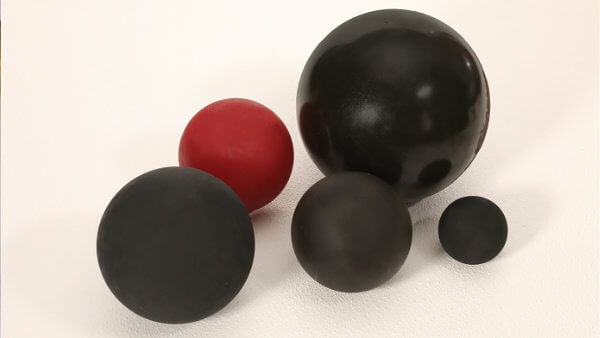 Choose a Plei-Tech® Polyurethane Ball Check Valve for the Best Performance
Plei-Tech® polyurethane ball check valves improve pump performance and help pumps operate quietly. Polyurethane is ideally suited for ball check valves because of its outstanding abrasion and chemical resistance, as well as its non-marking properties. The dynamic performance of Plei-Tech® polyurethanes allows for check valve operation at higher pressure and speeds.
Precision plastic balls from .75″ to 10″ are molded with or without metal inserts, and other polyurethane plastic ball sizes can also be custom molded. The urethane and the insert are selected to match performance demands with specific gravity needs. Standard durometers range from 80A to 75D, but softer compounds can be used. We can either furnish plastic balls "as cast" or "precision ground" for more exacting ball type check valve requirements.
In addition, to check valve balls, Pleiger also manufactures and recovers polyurethane check valve ball seats. Using a polyurethane ball check valve and seat forms a seal that prevents backflow.  The pump's noise output is also significantly reduced.
Below is a list of standard plastic balls and their weight:
Size
(Inch)
Standard Core Size
(Inch)
Ball Weight
Without Core (Grams )
Ball Weight
With Core (Grams)
0.75
–
4
–
1.00
–
10
–
1.25
0.75
19
43
1.50
1.03
32
95
1.75
1.45
52
226
2.00
1.58
77
301
2.25
1.58
109
334
2.50
1.98
150
599
2.63
1.98
175
623
2.75
2.50
200
1096
3.00
2.69
259
1374
3.25
2.69
330
1445
3.50
2.69
412
1527
4.00
3.60
615
3296
4.25
3.60
738
3419
4.50
3.60
876
3557
4.75
3.60
1030
3711
5.00
3.60
1201
3883
5.13
3.60
1297
3979
5.25
3.60
1391
4072
5.50
4.94
1599
8498
5.90
4.94
1974
8872
6.88
5.91
3129
14987
7.88
5.91
4702
16560
9.75
N/A
8907
N/A
| | Standard | Other Hardnesses (80A – 75D) |
| --- | --- | --- |
| Hardness | 95A | Add 40% |
| Color | Black | Varies |
| Tolerances | +/- .020″ | +/-".030" |
| Surface Finish | 128 RMS | 140 RMS |
| Quantity | | |
| No Core | 25 Pieces | 1 – 10 add 50%; 11 – 24 add 25% |
| With Core | See Above | See Above |
All Weights In Grams
.75″ and 1.00″ balls are natural in color, all others as shown above
All Balls are Centerless Ground except 7.88″ and 9.75″, which are cast to size
Other Metric and English Sizes Available, Call For Pricing
All Prices Ex-Works Washington, PA