Pleiger Plastics offers squeegee blades and squeegee profiles for a wide range of polyurethane screen printing squeegees designed for specific printing applications.
Popular Squeegee Blades and Profiles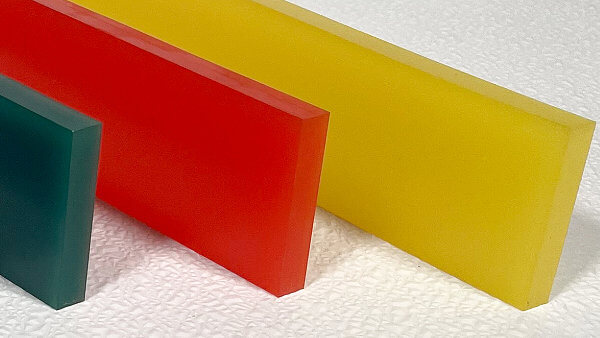 Straight Edge/Square Edge Screen Printing Squeegee Blades
Offer excellent shear for good deposit control and image definition. The most common squeegee used in graphic and textile printing applications. Lowest Cost Profile, most versatile.
Use Lower Durometers for more porous substrates. Use Harder Durometers for smoother substrates.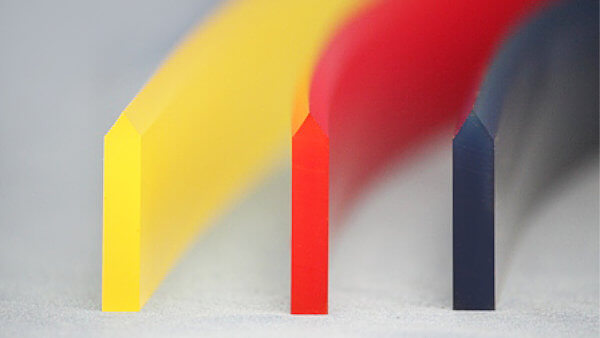 Beveled Squeegees Blades
Offer increased hydraulic pressure on the ink. On cylinder presses with no angle control or variation, the bevel controls the hydraulic pressure to drive the ink through the stencil. On presses with angle control, the bevel offers a consistent increased hydraulic pressure that drive extra ink through the screen.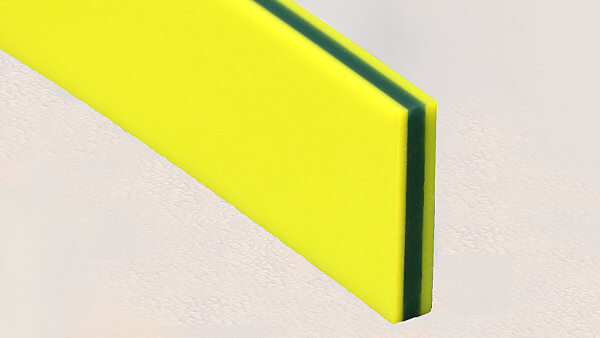 Straight Edge-Triple Durometer
An exceptional tool for critical ink shear. Two soft edges with hard backing between them. Maintains proper angle with no blade rollover at higher screen tension and print pressures. Soft printing tip conforms to irregular surfaces. Used mainly on high-speed presses.
They are primarily used on four-color and halftone jobs.
Type of Screen Printing
Common Specifications
Textile Printing
Material: Plei-Tech 22
Durometers Used: 55A thru 80A
Most Common: 70A
Profile Used: Straight Edge (Square) Profile most common.
Graphics Printing
Material:
Plei-Tech 22

Lesser Aggressive Ink Systems (UV and Conventional)
Short production runs with aggressive ink systems

Plei-Tech 15

Aggressive UV and Conventional Ink Systems
Longer production runs

Durometers Used: 60A thru 90A
Most Common: 85A
Profile Used: Straight Edge (Square) Profile is the most common

Container Printing
Material:
Plei-Tech 22

Lesser Aggressive Ink Systems (UV and Conventional)
Short production runs with aggressive ink systems

Plei-Tech 15

Aggressive UV and Conventional Ink Systems
Longer production runs

Durometers Used: 65A thru 90A
Most Common: 85A
Profiles Used: Double Bevel, 60 Degree Angle (Most common)

Electronics / Circuit Board
Material:
Plei-Tech 22

Lesser Aggressive solvent carriers
Short production runs with aggressive solvent systems

Plei-Tech 15

Aggressive solvent carriers, higher speeds, and more abrasive metals content
Longer production runs

Durometers Used: 55A thru 75A (depends on substrate surface and deposit required)
Most Common: 70A& 75A
Profiles Used: Straight Edge (Square)